A neighbour of mine has donated a used 12V gel-battery like this one: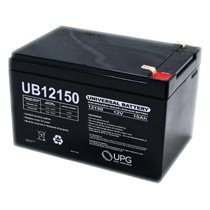 which he'd been using to power his mobility-scooter. He renews these every couple of years (so that he can maintain his maximum excursion range), but he reckons that this one has at least half of its original 15 Amp-hour capacity left - enough to keep a telescope-mount and dew-heaters going for a few hours.
I'll fetch it along to the next BAS meeting, unless anyone claims it beforehand.